Top 10 Photography Locations in Virginia
As a photographer in Virginia, I'm always looking for new locations for prime photographic opportunities. Listed here are several locations that almost always guarantee an amazing picture. Between the natural views and the historical sites, here are 10 locations with opportunities for lots of different types of photography.
1. Chincoteague and Assateague Islands, Eastern Shore
Known primarily for the population of wild horses due to the book Misty of Chincoteague, this is a place everyone in Virginia should visit. Miles of coastline on the Atlantic, lighthouses, and wildlife are all featured between these two islands and offer an amazing amount of photographic opportunity.
2. Virginia Beach
Although Virginia Beach does attract a crowd of tourists, there are several quieter and more rural beaches such as Sandbridge and Croatan which are ideal for beach photography. If you are a fan of wildlife photography, Virginia Beach also is home to the Back Bay National Wildlife Refuge. Among the many animals are seals, sea turtles, ospreys, and bald eagles.
3. Maymont Park, Richmond
Maymont is a beautiful place to visit with over 100-acres of gardens and a wide diversity of scenery. Between the mansion, arboretum, garden, museum, and wildlife exhibits, Maymont is a photographer's paradise. Within the gardens are also featured the Japanese Gardens and Italian Gardens along with many other treasures.
4. Spy Rock and Crabtree Falls, Nelson County
The trail to Spy Rock is a short 1.5 miles but leads you to an incredible 360-degree view of Virginia scenery. Only a few miles further brings you to Crabtree falls which is one of the tallest and most beautiful falls in Virginia. There are also caves, bridges, and lots of scenic views along the way, making this trip to Nelson County a great location for photography. 
5. McAfee Knob, Roanoke County
One of the most stunning views in the Roanoke Valley, McAfee Knob is a place that will take your breath away. The Catawba Valley, North Mountain, Tinker Cliffs, and the Roanoke Valley can all be seen from a panoramic view at the top. Although the hike can be a challenge for some, the view at the top is well worth it.
6. Great Falls National Park, McLean
Featuring the Potomac River with rapids, cascades, and rock faces, the Great Falls National Park is another gem in Virginia. There are overlooks along the park as well as hiking trails guaranteeing lots of photographic opportunities. You will always find great shots of this breathtaking landscape.
7. Roanoke Star and Mill Mountain
The Roanoke Star (also known as the Mill Mountain Star) is one of the most photographed attractions in the Roanoke area. This 88.5-foot tall star sits on Mill Mountain and is the largest man-made, illuminated star in the world. The overlook from the top of Mill Mountain where the star is built features a view of downtown Roanoke. One of the most iconic features of Roanoke, the Roanoke Star is one place you should definitely visit.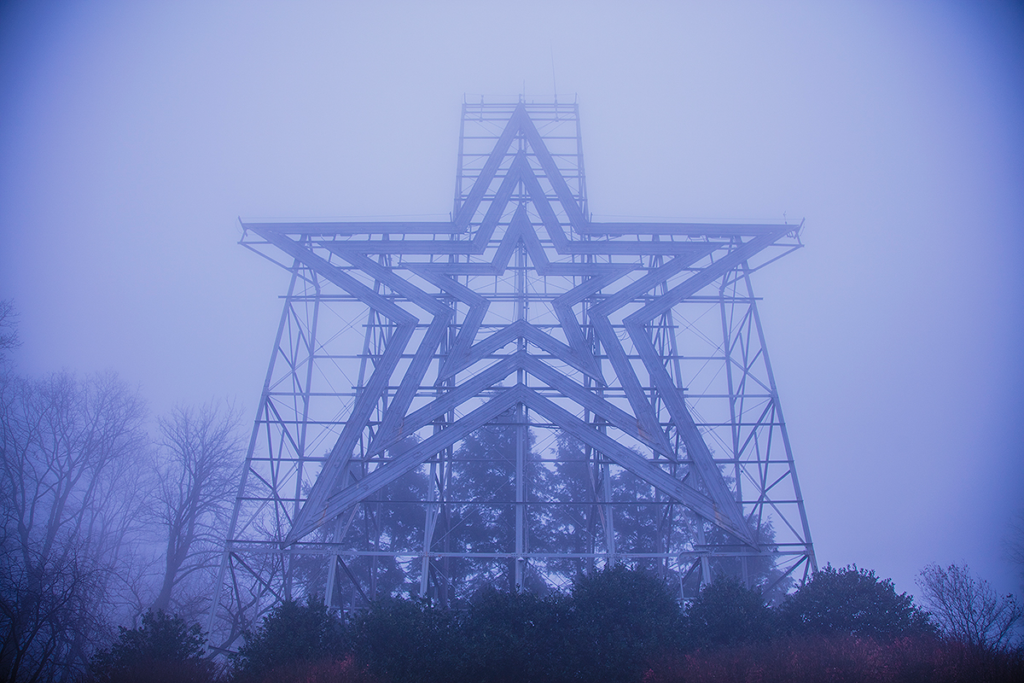 8. Old Town Alexandria
Situated on the Potomac River, Old Town Alexandria is a beautiful place full of lots of history. Between the architecture, riverfront, and the historical sites, Old Town is always an exciting place to go and photograph.
9. Mabry Mill, Meadows of Dan
If you are taking a trip down the Blue Ridge Parkway, then you can stop by Mabry Mill, one of the most iconic tourist attractions on the Parkway. This beautiful historical mill is one of the most photographed places in Virginia.
10. Skyline Drive, Shenandoah National Park
This 109 mile stretch of road offers unlimited amounts of photo opportunities. The scenes are breathtaking and absolutely necessary to visit if you are traveling through the Blue Ridge Mountains. There are also several great hikes along the way if that interests you. The Shenandoah is home to deer, black bears, wild turkeys, and more animals so if you are driving along Skyline Drive, there is a good chance you will cross paths with wildlife as well!
While these are 10 of my favorite places in Virginia, there are so many more beautiful hikes, landscape views, and historical locations. No matter where you go in Virginia, there are always beautiful places with lots of photographic opportunities.